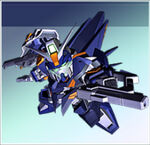 Stats

| HP | EN | Attack | Defense | Mobility | Movement | Size | Space | Air | Land | Water | Underwater |
| --- | --- | --- | --- | --- | --- | --- | --- | --- | --- | --- | --- |
| 13120 | 300 | 27 | 29 | 27 | 6 | M | B | - | B | - | C |
Weapons

| Name | Power | EN | MP | Range | Type | Hit | Crit |
| --- | --- | --- | --- | --- | --- | --- | --- |
| Beam Saber | 3700 | 32 | 0 | 1-1 | Beam Melee | 100 | 6 |
| Todesschrecken | 1000 | 15 | 0 | 1-2 | Rapid Fire | 105 | 25 |
| Stiletto | 4000 | 38 | 0 | 2-3 | Solid Projectile | 70 | 7 |
| Retractable Beam Gun x2 | 2300 | 42 | 0 | 3-5 | Beam 1 | 65 | 5 |
| Scorpion Mobile Railgun | 4500 | 45 | 0 | 4-6 | Shooting | 70 | 5 |
Abilities
Name
Effect
Remarks
Anti-Beam Shield Defense Possible
Enables 'Defend' command. Reduces received damage by 30%.

BEAM1 and BEAM melee further halved.

Phase Shift Armor
Physical damage reduced by 60%.

Consumes 10 EN every turn.

Consumes 5 EN upon activation.
Full Armor System
Normal melee and solid ammunition shooting halved.
Defense Support Possible
Enables 'Support Defense'.
Obtaining
Edit
Combining
Edit
Ad blocker interference detected!
Wikia is a free-to-use site that makes money from advertising. We have a modified experience for viewers using ad blockers

Wikia is not accessible if you've made further modifications. Remove the custom ad blocker rule(s) and the page will load as expected.