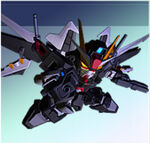 Stats

| HP | EN | Attack | Defense | Mobility | Movement | Size | Space | Air | Land | Water | Underwater |
| --- | --- | --- | --- | --- | --- | --- | --- | --- | --- | --- | --- |
| 13120 | 300 | 28 | 27 | 29 | 8 | M | B | C | B | - | C |
Weapons

| Name | Power | EN | MP | Range | Type | Hit | Crit |
| --- | --- | --- | --- | --- | --- | --- | --- |
| Fragarach 3 Beam Blade | 5000 | 42 | 0 | 1-1 | Beam Melee | 100 | 5 |
| Todesschrecken | 1000 | 15 | 0 | 1-2 | Rapid Fire | 100 | 25 |
| Anchor Launcher | 3200 | 30 | 0 | 2-3 | Normal Melee | 90 | 5 |
| Beam Rifle Shorty x4 | 2000 | 44 | 0 | 2-4 | Beam 1 | 65 | 10 |
| Linked Linear Gun x2 | 2500 | 40 | 0 | 3-5 | Shooting | 70 | 7 |
Abilities
Name
Effect
Remarks
Variable Phase Shift Armor
Physical damage reduced.

Consumes EN every turn.

Consumes EN upon activation.

Damage reduction and EN consumption depend on unit.

Power Extender equipped
All weapon EN costs reduced by 20%.
Defense Support Possible
Enables 'Support Defense'.
Obtaining
Edit
Combining
Edit
Ad blocker interference detected!
Wikia is a free-to-use site that makes money from advertising. We have a modified experience for viewers using ad blockers

Wikia is not accessible if you've made further modifications. Remove the custom ad blocker rule(s) and the page will load as expected.